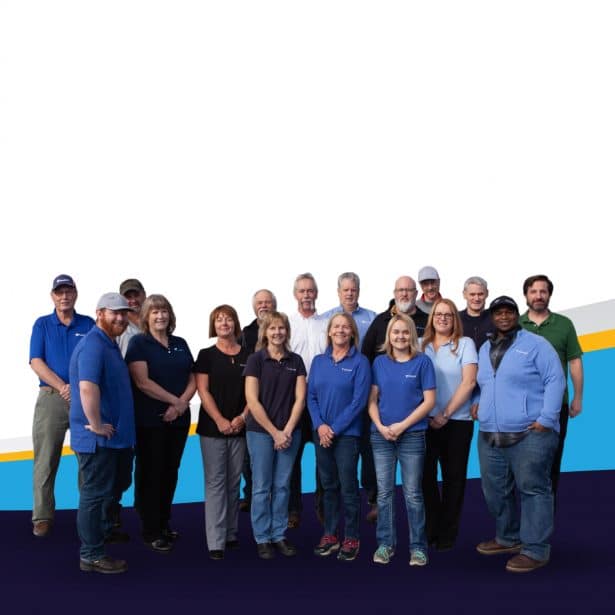 Proudly Connecting Our Communities
ToledoTel is a family owned Local Exchange Carrier headquartered in Toledo, Washington, USA. ToledoTel provides facilities-based telecommunications and broadband services to Toledo and other communities in Washington State.
Bringing the best services to the communities where we live.
At ToledoTel, our team is always innovating, exploring new technology, and bringing the best services to the communities where we live. With decades of experience in the industry and numerous certifications and credentials to our name, you can trust the ToledoTel members you work with to have the expertise you need and provide solutions with your best interests in mind. We enjoy supporting local businesses, schools, organizations, and individuals in ways that make our communities stronger.
Our History
For almost a century the Ramsey family has led ToledoTel. In that time, communications technology has changed a great deal, but the company's commitment to connecting people and enriching the community has remained constant. All services are delivered over our state-of-the-art network, and backed by professional customer service and local technicians.
ToledoTel's strategic vision is to build an end-to-end network of fiber optics that entails redundant routes throughout the Northwest Region, as well as direct fiber connections to the customers' premises. Our network allows us to provide the latest in voice, broadband data, and media services, such as high speed Internet, over-the-top applications, special access circuits, and hosted solutions for business and public institutions. We feel this commitment to infrastructure benefits our local economy, which will be more and more dependent on telecommunications and Internet services in the future.
1906
The Home Telephone Company was granted the right to erect, maintain, and operate a telephone business in Toledo.
1910
The council passed an ordinance that gave the Farmers Independent Telephone of Salkum a franchise. For a short time, two telephone companies operated in Toledo.
1915
George Blair was owner and operator of the Toledo Telephone Company, and later Roy O. Jackson became a partner. In 1918, Roy's interest was sold to his sister-in-law, Mrs. Jesse Jackson.
1920
L. J. Weatherwax purchased the Toledo Telephone Company in 1920 and called it the Toledo Telephone Exchange, which he operated until 1936. At that time, he sold the company to Allen Fletcher of Nampa, Idaho, who operated it for only a few months.
1938
Mr. Weatherwax took over again until 1938, when he sold to R.B. Cummings of Forest Grove, Oregon. Cumming's sister-in-law, Orvilla Ramsey, was named Manager. There were 150 subscribers.
1943
Mrs. Ramsey managed the company until 1943, when she married Elof F. Roselle, who took over as plant superintendent.
1944
The Roselles purchased the Telephone Exchange from Mr. Cummings.
1948
The company was moved from the location on Silver street to Cowlitz street. At this new location, which bordered Highway 99, a new building was erected for new dial equipment. The cutover to dial took place on August 6, 1952, with 429 subscribers.
1951
The Toledo Telephone Company was incorporated in July of this year.
1959
Glenn Ramsey, son of Mrs. Roselle, returned to work for the company.
1962
A storm on Columbus Day demolished a major part of the aerial plant outside the city limits, while creating no appreciable damage within. Many weeks were spent rebuilding.
1966
The company cut to direct distance dialing.
1970
The business office was moved out of the Roselle home to downtown Toledo.
1973
A new headquarters was erected on South 2nd, which today houses both the central office and the business office.
1974
The outside plant became 99 percent buried.
1984
In June, Elof F. Roselle, longtime president of the Company died. Orvilla Roselle assumed the position of President until her death in 1993.
1995
The Toledo Telephone Co., Inc. began its long term strategic vision for future-proofing the outside plant with fiber optics and by 2002 Toledo Telephone was offering high speed DSL to subscribers.
2006
Toledo Telephone began providing fiber broadband Internet access in the neighboring communities, via its competitive affiliate, Toledo Telenet.
2009
With much of its fiber in place, and redundant fiber routes from Portland to Seattle, Toledo Telephone began upgrading homes and businesses with fiber to the premise and delivering facilities-based fiber optic broadband services. Leveraging its soft switch capabilities, Toledo Telephone also began offering hosted voice over IP services to businesses and institutions in Toledo and areas in Southwest Washington and northern Oregon.
2010
In September, Toledo Telephone was awarded a sustainable broadband adoption grant by the Broadband Technology Opportunity Program (BTOP) together with the Cowlitz Indian Tribe. The goal of the program is to increase opportunities for broadband adoption for Toledo area residents and Cowlitz Tribal Members. This $2.1 million grant funds a project to provide broadband-related training, access, and computers to approximately 750 residents.
2012
In December, Toledo Telephone and Toledo Telenet combined to become ToledoTel
2015
In January 2010 ToledoTel initiated a major plant project of replacing its entire copper network with fiber optics. This project was completed in 2015, bringing gigabit fiber (FTTH) to every household and business in its service area. Broadband speeds of up to 1 gigabit are now available, providing the bandwidth customers need in the growing global market.
Now
Russell Ramsey is currently President & CEO.